WHAT WE ARE ABOUT
Radius Fitness serves as three studios in one. We offer strength and HIIT classes, cycle classes, and yoga classes. You no longer need to pay for multiple gym memberships when you have all three of these in one place. At Radius, our mission is to give you the three main necessities to stay healthy through cardio, flexibility, and overall body strength.
Our strength classes guide you through a total body workout with Kettle Bells, TRX straps, dumbbells, and battle ropes. When you enter our indoor cycle room you're welcomed with Schwinn AC Sport spin bikes equipped with upgraded monitors, leaderboards, LED lights, and speakers that give you the beats to rock out your ride! Back to our multipurpose fitness room is where you'll be able to relax, reset, and renew with our yoga classes.
And there's more! We have Nutrition and Accountability available which is included within your package or membership! We don't believe in charging 'extra' for something that is going to make your fitness journey complete. We want you to succeed and hit your goals!

YOGA PRACTICE
Whatever time of day it may be, starting a new or continuing a current yoga practice is a wonderful way to reset, refocus and renew the body and mind. Radius offers a wide variety of yoga classes of any level.

CYCLE CLASSES
Radius Fitness has top-rated Schwinn cycle bikes featuring computer tracking; this displays your workout information and transmits that data wirelessly via a Bluetooth connection. Your instructor can use this feature to monitor each participant's effort and progress. We offer several cycle classes for any type of rider.

STRENGTH CLASSES
30 & 45 minute Strength classes are offered to get your body working hard. These strength classes are scheduled just right so can get a kick start in the AM, a lunch hour fitness boost, or an after-work stress reliever, we are here to assist! Strength classes consist of TRX straps, battle ropes, and kettlebells to give you a great workout!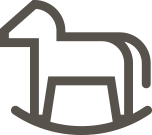 RADKIDZ
One of the biggest problems for parents is finding time to work out. This is why there will be RadKidz childcare on site. Parents will be able to book a slot for their child to be watched safely during their workout, so the parent can enjoy their workout and keep healthy in their busy lives.
*drop-in and monthly rates available
MORE THAN JUST A WORKOUT
Radius Fitness is a healthy place for people to get away for a short period of to focus on themselves. Everyone needs time to refocus and reset their mental and physical state. Radius Fitness will also host other businesses or non-profits to come speak and/or teach seminars, workshops, charity events and classes within our facility. The community is key!
OUR STORY
Josh Rodgers, a successful personal trainer in the east valley has expanded his business with the help of his wife, Caren Rodgers, to bring an exciting fitness center to the residents of the east valley. Josh has a degree in Exercise Science from Northern Arizona University and owns a personal training business for over a decade. Caren, a past personal trainer, turned to business management in 2013. Once she obtained a lifetime BeatBoss indoor biking instructor certification Caren developed a passion for indoor cycling and teaches alongside the other instructors. Radius Fitness is our new creation for individuals who are looking for cross-training options and a 'community feel' workout that can be started at any level of fitness.
*discount for Military, First responders, and Teachers GROUP CLASSES:
Monday – Thursday:
5:30am – 8:00pm
Friday: 5:30am – 6:00pm
Saturday: 7:00am – 12:00pm
Sundays: CLOSED
*closed mid-day until classes resume
RADKIDZ
Monday – Thursday: 4:00pm – 8:00pm
Friday – 3:00pm – 6:00pm
Saturday: 7:00am – 12:00pm
Sundays: CLOSED